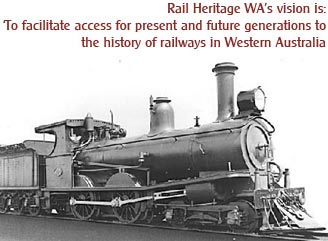 All About WA Railways
There is much to tell about Western Australia's railway history and our society has a wealth of information available.
Whether you want information for schools, or details of a specific station, or references to follow up yourself, we may be able to help.
Archives
Rail Heritage WA has built an extensive archive of information and images related to railways in Western Australia. The majority of the collection is from the former Government Railways, both WA and Commonwealth. However there are also items relating to the extensive timber lines and gold mines that operated in the state as well as private lines such as the Midland Railway Company. Click here for more information about our archives or to contact our archivist.
Archives photograph collection
We have also begun scanning the photographs in our archives - see here.
Information for schools and students
The Railway Museum at Bassendean is regularly visited by school groups. Our museum relates well to studies of Society and Environment, and Technology and Enterprise.
See here for information for students and teachers.
Index to relevant magazines
Rail Heritage WA is the WA division of an Australia-wide group which has published a monthly magazine with research about railway history in Australia since 1938. Many articles relating to WA can be found there. Click here to search the index.
^Back to Top