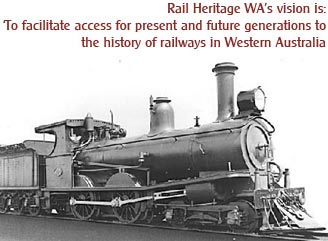 Archives
Rail Heritage WA has built an extensive archive of information and images related to railways in Western Australia. The majority of the collection is from the former Government Railways, both WA and Commonwealth. However there are also items relating to the extensive timber lines and gold mines that operated in the state as well as private lines such as the Midland Railway Company. More modern materials relate to the iron ore lines in our Pilbara region.
Some materials, particularly in the photographic collection, may be the only copies existing. Other materials may be available in public libraries or the Battye Library - in these cases our copies are meant mainly for the convenience of our members doing research.
Enquiries regarding information should be directed to:

Archives Photograph Collection
A picture tells a thousand words - and in historical research, a picture may often show something for which no words have been written.
Rail Heritage WA has collected photographs and images over many years and these are available for research purposes.
In 2010 we won a grant from LotteryWest to assist us to begin scanning selected photographs and making available online. Our volunteers continue this work and we now have over 15000 of these online at our gallery here.
Please contact our archivist if you would like more information:

Donations
We always welcome donations of materials - documents, photographs and ephemera - relating to WA railways. If you have materials which you think should be preserved, contact our archivist as above or call at the Bassendean Museum when open.
Research results
Much research into WA's railway history has been carried out. Some is already published in journals or books, but we make available here a small selection of results which are of wider interest.
Railway employees who served and lost their lives in the Great War 1914-1918
This Honour Roll was published in the 1919 Annual Report of the WA Government Railways and Tramways which were operated as a joint authority at that time)