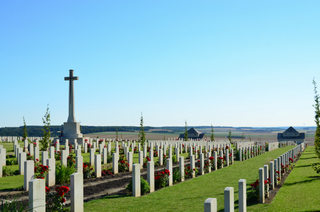 Great War graves at Australian War Memorial,
Villers-Bretonneux, France
Today we remember a railway employee who volunteered for military service in War and lost his life serving his country:
Rogers, Arthur Wilks
Position:
Cleaner
Employer:
Western Australian Government Railways & Tramways
Branch:
Locomotive
Military Unit:
16th Australian Infantry Battalion
Date of death:
8 May 1919
WA Railway employees lost in war
Rail Heritage WA honours all who have served in war to defend our country and our values.
We have worked to identify WA railway employees who enlisted in wars, and in particular those who died as a result of their service.
Information on these men from both government and private railways has been researched by Rail Heritage WA volunteers and now you can search for names here.
The Great War 1914-1918
When this War started, WA railwaymen responded as willingly as any other citizens, and over the next four years a total of 2184 men were given leave to enlist.
Unfortunately 346 of these men lost their lives as a result.
For more information on this war and the railwaymen who served in it, see here.
Second World War 1939-1945
Once again, many railway employees enlisted with military forces.
We have assembled information from memorials, references in journals, and personal recollections.
For more information on this war and the railwaymen who served in it, see here.
Anglo-Boer War 1898-1902
Railwaymen were among enlistees from WA and two lost their lives. More information will be found here.
WA railways' contribution
Those who remained, and the rail systems themselves, played a vital role in transport during the 1939-45 war, with the military's needs met by numerous special trains and in some cases by replacing or delaying ordinary traffic.
Railway workshops, particularly that at Midland, were partly diverted to military uses including the manufacture of large numbers of shells.

Further information
Rail Heritage WA would always be grateful to receive more information.
Enter a name to conduct a Search: